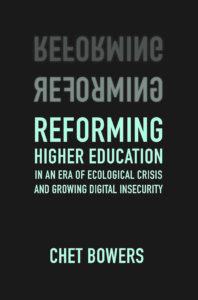 Chet Bowers

In an Era of Ecological Crisis and Growing Digital Uncertainty
As environmental changes are now directly impacting people's lives there is a growing awareness that the high-status knowledge being passed forward by universities may be contributing to the double bind where university research is contributing to a better understanding of the scope and rate of environmental changes but, at the same time, universities continue to promote the deep cultural assumptions that gave conceptual direction and moral legitimacy to the industrial revolution that is now in its digital phase of globalization. Recent publications, as well as efforts in Third World countries to create their own alternatives to the Western model of a university, suggest we are on the cusp of an ongoing debate about the future of higher education and the reforms that should be undertaken. This book focuses attention the cultural and linguistic roots of the ecological crisis that have been ignored across the academic disciplines. It explores alternative pathways to living less consumer-dependent lives that have a smaller ecological footprint, and how the digital revolution is leading to the loss of important traditions such as democracy, privacy, and long-term memory.
Contents:
Chapter 1 The Politics of Language
Chapter 2 Linguistic Foundations of the Mythical Foundations of Modernity
Chapter 3 Why Universities Continue to Reproduce the Misconceptions Inherited from the Past
Chapter 4 How Technological Forces and the Ecological Crisis are Leading to a More Violent Future
Chapter 5 Can a Case be Made for a Liberal Education?
Chapter 6 WisdomTraditions: Another Silence Perpetuated by Universities
Chapter 7 The Cultural Commons as Sustainable Pathways in an Increasingly Stressed World
Chapter 8 Educational Reforms that Revitalize the Cultural Commons
Chapter 9 Is the Digital Revolution Sowing the Seeds of a Techno-Fascist Future?
Chapter 10 Change and Radical Transformation by (by Marcus Ford)
Series Toward Ecological Civilization, Vol. XI
Paperback: 184 pages
Publisher: Process Century Press (October 7, 2016)
Language: English
ISBN-10: 1940447232
ISBN-13: 978-1940447230
Product Dimensions: 6 x 0.5 x 9 inches
Buy NowRequest Exam CopyRequest Review Copy